Menu Examples
Just a few of the items we offer and have offered in the past. You are more than welcome to use one of our package plans or Affairs By Pinehurst would be more than happy to develop a custom menu from scratch to meet your events unique and individual needs.
Wedding Package Plans Available for Heavy Hors d'oeuvres, Dinner Buffets, Seated Served Receptions & Brunch
These package plans are priced out to include rental, set-up and break-down, wedding pavilion and chairs, bridal directors, tables, chairs, basic linens, food, tax and workers. We do offer tastings- please call 770-747-7997 to schedule a tasting for your event.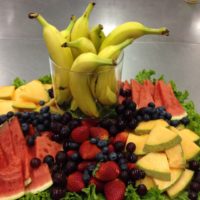 Breakfast
Example Menu Ideas
Breakfast Casseroles ~ Croissants ~ Scones ~ Muffins ~ Danish ~ Bagels w/ cream cheese ~ Smoked Salmon ~ Biscuits with Sausage and Cheese ~ Citrus Salad ~ White Pepper Gravy ~ Bacon & Sausage ~ Fresh Fruit with a cheese cake dressing ~ Cheese Grits ~ Hash Browns ~ All type of eggs ~ Waffles ~  Pancakes ~ Omelets ~ Ham Steaks ~ Hollandaise Sauce ~ Steamed Vegetables ~ Crumb Cake ~ Éclairs ~ Lemon Bars ~ Mini Steaks ~ French Toast Casserole  ~  Yogurt & Granola  ~  Sliced Maple Glazed Ham  ~  Orange Juice ~ Coffee  ~  Mimosas  ~  Mellon Bowl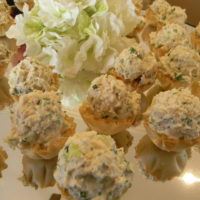 Finger Foods
Example Menu Ideas
Layered Mexican Dip ~ Herbed Steamed Shrimp ~ Fruit Kabobs ~ Hot Pasta Alfredo or Marinara ~ Humus Platter ~ Mini Bacon and Potato Frittatas ~
Chicken Drumbeats (Hot Wing or Fried) ~ Mini Quiche ~ Hot Dips (12 types) ~ Mini Veggie Eggrolls ~ Deviled Eggs ~ Meatballs ~ Mushroom Puffs ~ Veggie Platters with assorted dips ~ Tea Sandwiches or Finger Sandwiches ~ Strawberries with hot chocolate dip ~ Zucchini Bites ~ Stuffed Mushrooms ~  Lollypop Lamb Chops ~ Italian Sausage Bites ~ Fruit and Cheese Trays ~ Dessert Tower ~ Mini Quesillias ~ Carving Stations ~ Sliders (burgers, chicken, fish) ~ Smoked Salmon Pate ~ Poached Salmon ~ Little Smokies in puff pastry ~ Rangoon's ~ Mini Ribs with sauce ~ Hot Open Face Mini Reuben Sandwiches ~ Fruit Cascades with Dips ~ Mini Crab Cakes ~  Mini Quesada's with cheese or chicken or fish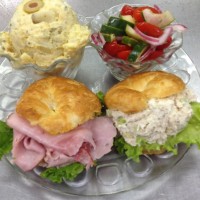 Lunch
Example Menu Ideas
Homemade All White Chicken Salad ~ Egg, Tuna, Shrimp Salad ~ Mini croissants filled with assorted meats and entrée salads ~ Whipped Lime Salad  ~ Homemade Potato Salad ~ Pasta Salad (Greek or American) ~ Tomato & Cucumber Salad ~ Sliced Chicken, Kiwi, Strawberry Tossed Salad ~ Spinach Salad ~ Chicken Caesar Salad ~ Chicken Pot Pie topped with Puff Pastry ~ Turkey and Bacon Spinach Wraps ~ Deviled Eggs ~ Broccoli Salad ~ 3 Bean Salad ~ Cole Slaw (Regular and Champagne) ~ Assorted Finger Sandwiches ~ Brownie Bites ~ Mini Chocolate Mousse ~ Punch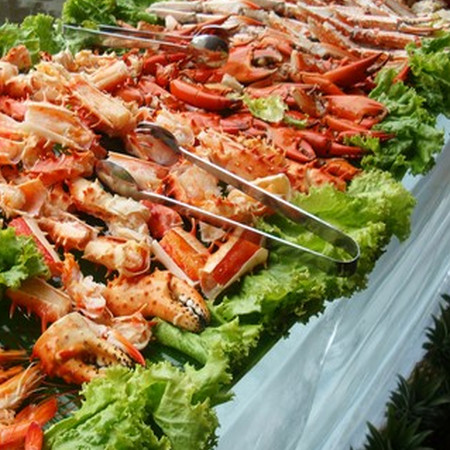 Stations
Example Menu Ideas
Carving Stations ~ Seafood Station ~ Pasta Station ~ Asian Stir-Fry Station ~ Spanish Station ~ Gourmet Pizza Station ~ Soup & Salad Bar ~ Fresh Fruit & Fondue ~ Wedding Cake & Grooms Cake ~ Gourmet Mashed Potato Bar ~ Slider Bar with Mac & Cheese ~ Candy and Sweets Bar
A Carving Station: (Your choice of One Meat)
Baked Ham / Roast Beef / Baked Turkey Breast / Corned Beef / Boneless Pork Loin Roast
These stations come with condiments
(You may upgrade the basic meats for a carved Herbed Parmesan Crusted Leg Of Lamb OR Prime Rib Or N.Y. Strip)
(Tenderloin of Beef and Baked Salmon is also available for an additional charge.)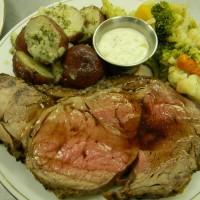 Dinner
Example Menu Ideas
Herbed Boneless Sliced Chicken Breast in a creamy wine sauce ~ Roasted Turkey with a light gravy ~ Jerk Chicken or Pork ~ Curry Beef ~ Roasted or Fried Asst. Chicken Pieces ~ Chicken Parmigiana ~ Lemon Caper Chicken ~ Chicken Marcella ~ Baked Ham ~ Boneless Pork Loin ~ Lasagna ~ Brisket of Beef ~ Chicken or Beef Fajitas ~ Jambalaya ~ Seafood Newburg ~ Baked Tilapia ~ Shrimp & Grits ~ Shrimp or Pork Fried Rice ~ Pasta Alfredo ~ Grilled Vegetable Kebabs ~ Peppers Stuffed with Rice and Vegetables ~ Gnocchi with Squash & Kale ~ Pasta with diced tomatoes, black olives & feta cheese ~ Button Mushrooms with vegetables in a tomato sauce topped with mozzarella ~ Maryland Crab Cakes ~ Sautéed Scallops ~ Salmon Filets  ~  Fried Shrimp  ~  Pulled Pork Or Chicken BBQ ~ Herbed Pecan Parmesan Crusted Lamb ~ Prime Rib ~ Carved Tenderloin of Beef ~ Pulled Pork with Lime & Cilantro or BBQ Sauce ~  Chicken & Cheese Quesada's ~ Maple-Orange Boneless Chicken Breast ~ Sautéed Pork Chops
Example Menu Items:
Herbed Boneless Chicken Breast sliced in a wine sauce with fresh sautéed mushrooms
Roasted Turkey with a light Gravy
Jerk Chicken Or Pork   /  Curry Beef
Boneless chicken with a peach and pecan sauce
Slow Roasted Boneless Or Fried Chicken with a light gravy
Chicken Parmigianino with marinara sauce
Boneless Lemon Chicken Breast with a light lemon caper sauce
Chicken Marcella with mushrooms
Baked Ham with a Honey Mustard Sauce
Sliced Boneless Pork Loin with a Dijon Mustard Cream Sauce OR Light Gravy
Lasagna (Meat Or Vegetarian)
Slow Roasted sliced Beef Brisket in Gravy
Chicken Or Beef Fajitas
Jambalaya (with shrimp & sausage)
Seafood Newburg
Baked Breaded Tilapia filet w/ mango salsa or lemon caper sauce
Shrimp & Grits  OR  Shrimp Fried Rice  OR  Pasta Alfredo
Grilled Vegetable Kebabs  OR  Peppers Stuffed with Rice and Vegetables
Gnocchi with Squash and Kale
Pasta with herbs and diced tomatoes with sliced black olives and feta cheese
Portabella Mushroom Stroganoff
Sliced fresh button mushrooms with vegetables baked in a chunky tomato sauce and topped with
mozzarella cheese, tomatoes, zucchini & parmesan cheese

OR upgrade to the following:
** Maryland Crab Cakes, Scallops, Salmon Filets and Fried Shrimp for additional charge **
SIDE DISH EXAMPLES:
Rice Pilaf OR Long Grain & Wild OR Spanish Rice  / Buttered Noodles / Au gratin Potatoes /  Stuffing / Pasta / Mashed Potatoes / Parsley Potatoes / Baked Potatoes / Potato Salad / Cheese grits / Sweet potato casserole / Roasted New Potatoes / Scalloped potatoes / Red Beans and Rice / Refried Beans / Greek or American Pasta Salad / Green Beans / Corn / Carrots / Peas / Cole Slaw / Cucumber & Tomato Salad / Gourmet Mac & Cheese / Broccoli / White Beans / Cauliflower / Steamed Vegetable Medley / Lima Beans / Garlic Smashed Red Potatoes / Baked Beans / Squash Casserole / Cream Corn / Zucchini / Twice Baked Potatoes  /(add $ .75)  /  Sliced Tomatoes & Red onions with shredded Lettuce / Potato Salad  /  Red or Black Beans & Rice  /  Plated Seated Served Tossed Salad
with 1 Dressing in side cup (counts as 2 sides)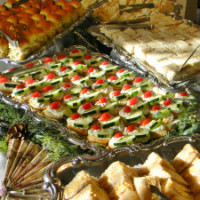 High Tea
Example Menu Ideas
Fancy Assorted Finger Sandwiches ~ Scones ~ English Trifle ~ Blueberry Muffins ~ Spinach & Artichoke Heart Dip ~ A Hot Crab Dip ~ Apple & Cheddar Dip ~ Assorted Finger Desserts ~ Assorted Cakes and Tarts ~ Strawberries with Devonshire Cream ~ Assorted Hot Teas and Punch